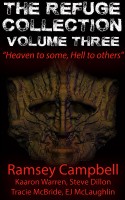 The Refuge Collection Volume 3 was released in e-book format yesterday. It contains my short story "The Lizard and the Maiden", and sits alongside tales from Ramsey Campbell, Kaaron Warren, Steve Dillon and E J McLaughlin. The Refuge Collection is a project edited by Melbourne-based writer Steve Dillon. All the stories are set in the mythical Australian town of Refuge. They can be read as stand-alone pieces, but ultimately when the project is completed (Steve is looking at 6 volumes with a total of 36 stories) they will combine to build an overarching plot. All the proceeds from the e-book sales go to help refugees via registered charities Sanctuary Australia Foundation and Refugee Action UK.
A long time ago when I first started submitting stories for publication, an editor told me that I ought to be writing stories based on my culture and using New Zealand mythology. Ironically, the longer I live away from my country of birth, the more I look there for inspiration. Like my stories "The Touch of the Taniwha" and "Father Figure", "The Lizard and the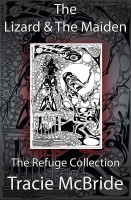 Maiden" incorporates elements of Maori myths, legends and spiritual beliefs. This fits with Steve's vision for The Refuge Collection, as he aims to curate a collection of stories from a variety of cultural backgrounds and perspectives.
You can purchase Volume 3  for $5 from Smashwords in several different electronic formats to suit your reading device of choice. Alternatively, and as with most of the other individual stories in the collection, "The Lizard and the Maiden" is available as a standalone piece for a mere 99 cents.