Today's post comes courtesy of Steven L. Shrewsbury as part of his blog tour promoting the release of his latest novel Killer of Giants.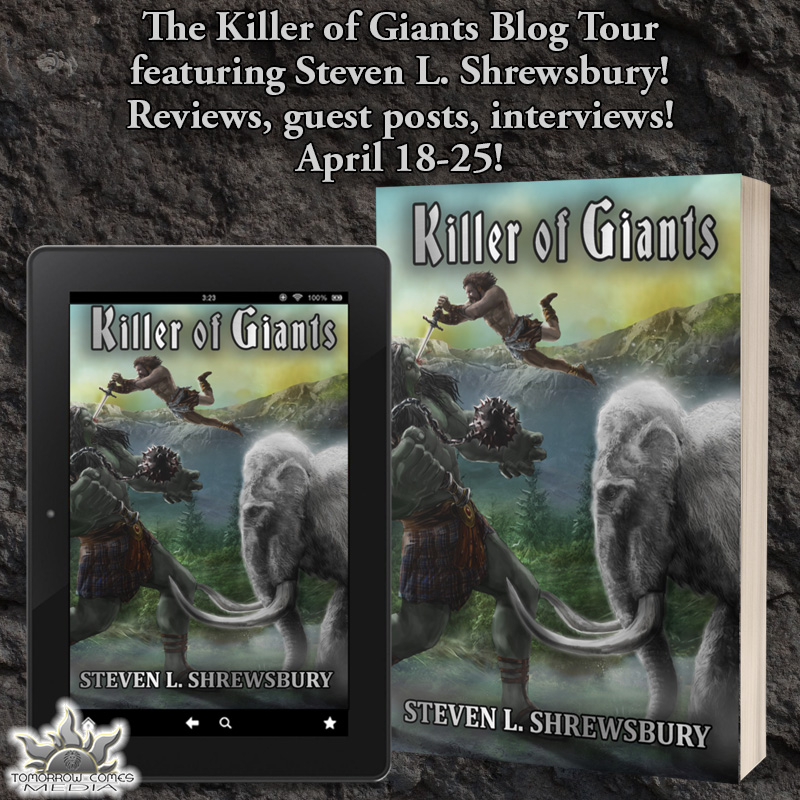 About Killer of Giants: In an antediluvian world, Keltos warrior Rogan emerges as the lone survivor of a battle. Slaying a Nephilim giant from Shynar, Rogan takes back the mammoth his folk gifted the kings.
Soon, warriors are sent to recapture the mammoth and bring it to the Lord of the world, Zazaeil, a demon in human flesh, and the Nephilim giant Marduk, in the fabled city of Irem.
After learning that his sister is to be a sacrificial bride to Marduk, Rogan journeys to Irem in the company of Elisa, a warrior herself, whose mother is a wizardess. With a horde of warriors in pursuit, they encounter many evils, monsters, and challenges to their selves and souls.
Will the song of Rogan's blood make him strong enough to be the Killer of Giants?
* * *
When I decide to write a novel, I won't classify it apart as fine as frog's hair. I don't say, "Well, golly, gonna write me up a new Sword & Sorcery novel." Nor do I say, "Well, this sucker is gonna be a high fantasy, but not too long, so it can't be an epic fantasy, but, I better make it more diverse so folks don't think it's a heroic fantasy or…" 
Ugh. It's a story. The terms folks use for such things can be a pain and I think I oft blur such distinctions. A reader once told me he didn't like how horrific my books are and was turned off at such violence in a supposed fantasy book. Ok. Well, read more stuff, I told him. I hope he never finds George R. R. Martin. I'm just telling a story, not trying to compete with someone for a gross out thing, or surprise the reader with a huge reveal of weirdness. I'm just telling a tale, if any of those odd things happen in the book, it is a piece of the yarn. At no time did I consult a TSR manual nor play a video game to figure details out. The yarn all comes from reading and at times listening to music. S'true. Dark metal & bluegrass ballads inspired the creation of Gorias La Gaul and Rogan the Kelt. There's a lot more Tony Iommi, Johnny Cash and Ralph Stanley in my characters & tales than Gary Gygax dreams.
I once wrote an article about the differences between fantasy, and the classifications. I was kind of sorry I learned what the difference was, really. I don't sit down to make it in any special category. If a story is really long and covers so much territory, have I veered into epic fantasy? Does that mean I have to write ten more books over a thousand pages one can use for doorstops? I don't think I could live long enough to do that, anyway.
Sit back, pick up a book, because I'm going to tell you a tale, spin you a yarn and not bore the crap out of you for a thousand pages. Someone once said they read a famous series and in a 700 page volume, um, nothing happened. How is that possible? I usually have bodies hitting the floor immediately, but one doesn't have to slay a dragon or slaughter the army right away. It's a story. Make it interesting and tell a tale where a reader is drawn in to it. 
Do I write sword & sorcery? Is KILLER OF GIANTS a S&S book? What's the definition of that?
The ol' Wikipedia says "Sword and sorcery is a subgenre of fantasy characterized by sword-wielding heroes engaged in exciting and violent adventures. Elements of romance, magic, and the supernatural are also often present."  
Well isn't that special. Guilty of S&S by accident.
Why should you, a fan of Sword & sorcery and forms of fantasy, want to read my new novel KILLER OF GIANTS? It has all of the above elements, though light on romance. However, it has something to offer. Rogan, the raw hero of the BASTARD series I co-wrote with Brian Keene is seen here at twenty four years old, a mercenary and last survivor of a battle between kings. Not so jaded as in his older years, Rogan goes forth to find his father and sister in fabled Irem. The book indeed has wizards, warriors (male and female) and a cool mammoth in it. There are Nephilim giants, demons in human flesh, Chimeras, Gorgons and has more balls than the World Series. Be seated and listen while I spin you a yarn about how Rogan fought, matured, and met the KILLER OF GIANTS.  
* * *
About the author:  Award-winning author STEVEN L. SHREWSBURY lives and works in Central Illinois. He writes hardcore sword & sorcery, fantasy and horror novels. Twenty of his novels have been published, including KILLER OF GIANTS, BEYOND NIGHT, BORN OF SWORDS, WITHIN, OVERKILL, PHILISTINE, HELL BILLY, THRALL, BLOOD & STEEL, STRONGER THAN DEATH, HAWG, TORMENTOR and GODFORSAKEN. His horror/western series includes BAD MAGICK, LAST MAN SCREAMING, MOJO HAND and ALONG COME EVENING. He has collaborated with Brian Keene on the works KING OF THE BASTARDS, THRONE OF THE BASTARDS & CURSE OF THE BASTARDS and Peter Welmerink on the Viking saga BEDLAM UNLEASHED. A big fan of books, history, the occult, religion and sports, he tries to seek out brightness in the world, wherever it may hide. 
Author Links:  
Twitter: https://twitter.com/shrewsreh
Facebook: https://www.facebook.com/authorstevenshrewsbury
Ready to buy? Here are some options –
Purchase links for Killer of Giants: 
eBook Links
Kindle Version: https://www.amazon.com/dp/B09SGV5141
Nook Link: https://www.barnesandnoble.com/w/killer-of-giants-steven-l-shrewsbury/1141004710?ean=2940160798370
Print Links:
Amazon: https://www.amazon.com/Killer-Giants-Steven-L-Shrewsbury/dp/1736812556/
Barnes and Noble Link: https://www.barnesandnoble.com/w/killer-of-giants-steven-l-shrewsbury/1141044545?ean=9781736812556 
Want to find out more? You can follow the tour here –
Tour Schedule and Activities
4/18 Jazzy Book Reviews https://jazzybookreviews.com/ Author Interview
4/19 Horror Tree https://www.horrortree.com Guest Post
4/20 Exquisite Corpse https://traciemcbridewriter.wordpress.com/ Guest Post
4/20 BOOKS TO CURL UP WITH https://bookstocurlupwiith.blogspot.com Review
4/21 The Write Start https://www.thewritestart.net Guest Post
4/21 BookWitch https://bookwitchblog549755749.wordpress.com/ Review
4/22 Sapphyria's Books https://saphsbooks.blogspot.com/ Guest Post
4/23 BookWitch https://bookwitchblog549755749.wordpress.com/ Interview
4/24 Literary Underworld https://www.Literaryunderworld.com Guest Post
4/25 Sheila's Guests and Reviews http://sheiladeeth.blogspot.com/ Guest Post