Have I mentioned before how I have this almost uncontrollable urge to say 'yes' to things?
Well, I promised myself I was going to be more stingy with my time, but then someone told me about this Facebook group called "Review Seekers" for authors seeking reviewers and reviewers seeking books, and I joined it with the hope of getting reviews for Ghosts Can Bleed, and then one of the other members of the group suggested a review swap, to which I said 'yes', of course, not just because I always do but because that only seemed fair, but the reciprocal review from that swap never eventuated so, still on the quest for the Holy Grail of an unbiased review on Amazon or Goodreads ('cos giving myself 5 stars just doesn't count), I entered into another review swap, and…
Here, no longer with any expectations of reciprocality, is my review of Skin of Giants by Mike Cooley.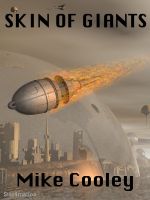 This single-author short story collection is clearly aimed at the seasoned science fiction fan.  There are a number of recurring themes and tropes, such as robots and artificial intelligence (Blood and Wire, Evanesce), a reverence for the Mothers and Fathers of science fiction (Blood and Wire, Skin of Giants), the transference of consciousness (Transmute, Angela, Connections, Same As It Ever Was) and the wider-reaching theme of what a man is prepared to do for the woman that he loves (Evanesce, Angela, Connections).
Personal favourites include Blood and Wire, which starts out as a cliché-ridden science fiction story with its robots, space and time travel and alien's perception of Earthlings, and ends up in an unexpectedly clever and strangely poignant place; and Connections, which makes excellent use of realistically written dialogue to keep the reader's attention.